Help the Aged
I've just been out on a mission to buy some tea-bags for the boys in the office.
As I walked up to the entrance of the store, I saw a little old lady struggling with the door. I opened the door for her with my best 'I'm a lovely young man' smile and then carried on with my search for tea.
Only ten paces inside the store there was another little old lady finding it difficult to reach the Shredded Wheat from the top shelf. As I was at least ten times the height of the old lady, I stretched up into the sky and plucked the box down for her, "
Thank you, young man
" she said. Before I could walk away, I heard a little voice from behind "
Excuse me young man, could you please pass me some Shredded Wheat as well?
"
ANOTHER
little old lady had crept up behind me! The two little old ladies then had a little old lady conversation about how I was a "
Lovely young man
", friends for life I'm sure.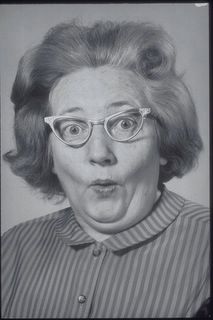 Helpless
I then noticed that the
ENTIRE
store was full of little old ladies and a couple even had reluctant shoppers in their husbands (I assume...) walking along behind them.
I dashed to the end of the aisle and into the safety of the next - phew! There were no tea-bags in this aisle though so I had to risk going to another. The next aisle was the frozen food section and guess what? There was a little old lady having trouble opening the freezer door AND reaching inside for a frozen pizza... I tried avoiding eye contact but it was too late "
Excuse me....
" After fetching the pizza for her, I was treated to a story about how her grandson looked remarkably like me and how he loved Pizza (it turns out he was only 14 though... I'd hate to think that any 14 year olds look like me).
After getting rid of that one (Not as in bunging her into the freezer and hiding her amongst the peas and sweetcorn - I just finished the 'conversation'), I dashed to the tea-bags and ran for my life to the checkout. I was a little nervous as the old ladies in the queue were slowly unloading their baskets, luckily nothing was too heavy or too far out of their reach.
I finally made it back out again (After holding the door open for another old lady on the way), ran to the office and locked the door behind me and placed the key in a really HIGH location, ensuring it was out of reach of any old ladies.