The Golden Arches
McDonalds, it does my bloody nut in. Especially at Christmas.
Gross
It just looks wrong doesn't it? Even before you go into detail about the salt and fat contained in one of the buggers. Then there's the obesity that comes from eating too much of it and the risks of you developing diabetes or heart disease in the future.
Do you know what is worse than all of that? The fact that McDonalds exists.
The interior reeks of absolute wrong-ness. There are the fucking bleepy things that bleep constantly, slowly eroding your will to live. Screaming kids chuck fries around. The straw wrappers are fired at the window, ketchup (Because they don't serve Tomato Sauce) covers the tip ensuring the wrapper sticks for a while before sliding off, leaving a small trail of slime. People stand WAY too close to you in the queue while they discuss their 14 year old mates impending pregnancy. The cashiers shoot back with a "
You Wha?
" when you ask politely for a BIG MAC, a confused look on their faces. Baseball cap donning
Kevs
seem to have taken over the establishment, probably trying to pick up underage girls to get preganant and then fuck off before the baby arrives.
EVERYONE
looks unhealthy. The staff are miserable* and I can completely understand why. I can't stand being in there for more than five minutes.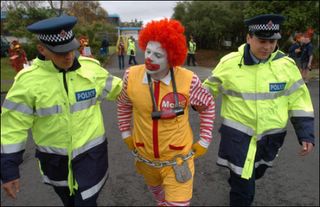 Maccers in trouble again
I've probably consumed four of Ronalds dodgy burgers in the last year, that is a small amount but it absolutely disgusts me. Today, I grabbed my Meal of Ming and ran as fast as I could to get outside - the doors opened and the blast of cool air from the crisp December morning was one of the most refeshing things I've experienced in recent days. I scarpered back over to the office, trying to conceal the white paper bag containing £3.99 worth of fat. I glanced back over my shoulder to see the door closing again, sealing the inhabitants inside until some other fat junkie decides that they neeed another hit.
I wish that everyone would just realise what it is they're doing to themselves when they eat any of the products. I looked on a tourist map of Calgary last year, the Calgary Tower was marked brightly, as was the old fort but, rather distressingly, 32 little golden M's appeared. Thirty Two?!!! And on a
TOURIST
map?!!
McDonalds meals do have one thing going for them though - they're frikkin
AMAZING
for sorting out hangovers.
*Apart from one branch in Victoria, Canada - they were hilarious