I want to hear something I haven't heard before
Wow, almost didn't mention it today... that was a bit redundant seeing as this guy had such a large influence on my musical tastes.
It was
John Peel day
today, all day. Peel has been a friend of youth culture since ever since he took to the radiowaves with his trademark ability of discovering new musical talent ensuring that, whether you like it or not, you heard it. He played music as it actually is: an unholy mess, a mixture of old and new, some bands having sold millions and some who've never seen more than a four-track. It made a lot of sense.
Peel died last year and today marks the anniversary of his last broadcast on Radio 1.
He introduced me, and thousands of others, to a completely different world of music. It was on his show that I first heard punk rock, and I kind of liked it. While most other kids listened to Queen or New Kids on the Block at the age of 10, I was taking in the delights of the Buzzcocks, the Undertones and the Clash amongst others. Throughout the nineties, as I rather naively thought my musical horizons couldn't expand any further, I'd listen to his show and he'd produce a record that just refused to be categorised by anything I'd previously heard. A real talent.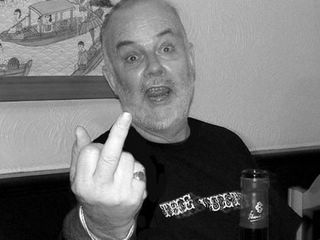 John Peel - Sorely missed
Throughout the day, people payed tribute to the man by staging hundreds of gigs throughout the UK and beyond. The radio has been full of tributes and rightly so. I still miss his voice in the evening, a sure sign that no-one had a clue what he was going to play next, a great feeling!