I Get Around
It's been almost a week and for fear of Texan style beatings, I'm back.
To be honest, not much has happened in the hip world of Swansea. In my last post I was whinging about how I felt after another weekend booze fest. I still hadn't recovered by Friday - I think that I may have actually been ill. The other three lads in my office were slurping up the Lemsip all week, as they had all been struck down with a mystery flu. I wasn't nearly as bad as them and but all the same, I was ill. I was extremely happy about discovering that the others were poorly, I couldn't blame the alcohol anymore!! Hooray!
Friday night was the beginning of the Heineken Cup - European club rugbys' premier competition. I watched the first three games in a row, which took me nicely from 17:00 until 23:30. I was so tired that I just went straight to bed - it felt rather odd for a Friday night.
Saturday was more of the same, I slept until mid-day then watched more rugby. I had to catch the Scarlets v Toulouse game but it was different this time around. We were expected to lose to the French anyway so I didn't mind when they finally beat us with a score of 50-28. The most infuriating thing was that I wasn't watching it with friends in a pub or with my little sister at home but I was in my flat in the company of my landlord... I was extremely tense as we started falling behind, and was shouting at the TV. My landlord seemed oblivious to my heightened state of tension and continued to talk to me about first world war heroes or the Victorian pipe-cleaner he'd picked up in an auction today. I was livid and was on the brink of snapping throughout the game, a mammoth effort was required to stay calm, I constantly recited "
Don't F**ing distract me, Don't f**ing distract me
" - I didn't enjoy the match as a result.
The instant the final whistle blew, I went up to my room. Played the most soothing music I could find in my collection (The music of
Robert Johnson
did the trick) and got on the phone to
Eirian Evans
in Cardiff.
Curly
: Evs, fancy a drink tonight?
Eirian
: Whaaay! Chris! Get down here, we're playing drinking games round Lewis' house.
Curly
: See you in about 90minutes...
*click*
90 minutes later I had finished four beers (I love train rides) and was knocking on Lewis' door in Cardiff. Osian answered, gave me a drunken hug and we stumbled into the living room. The room was littered with bottles of Vodka, mixers, Rose and loads of bags of crisps - brilliant! I had walked in halfway through a round of "Bunny bunny bunny" (drinking game common to this particular group of people, I can't be bothered to explain it) so I tucked in straight away alongside Eirian, Osian, Paddy, Alun, Lewis, Tom and Maddy. The games carried on into the early evening and at some point we went into town. Incognitos' was the destination, we all piled in and carried on partying (I assume).
The next day was a struggle, but that was quickly given a quick start by a trip to the Breakfast bar with Maddy for a nice greasy fry-up. Maddy and Osian had moved up to Cardiff after three years in Bournemouth and a summer back in Pembrokeshire. They've moved into a house opposite the boys flat which is absolutely brilliant - more troops to party with! The rest of the day we met up with Dave, Osian, Charles, Chris, Gaz and Marv in the George.
The weekend ended with a drink and a smoke in the boys' 'sister' flat at 1am Monday morning.
Monday morning I felt okay (phew!), just a little tired and hoarse. I sat at the train station and chatted to my random train friend, Kiwi Claire. Claire worked in the same office as me a couple of years ago but I see her most Monday mornings at the station. She's always lively and ready to go to work, while I'm curled up in a ball on the platform - wishing that it was Saturday again. (Not really, the platform is quite cold to lie on)
It's Tuesday. I'm sitting on the computer at 11:30 while my lectures (that have been going since 9am) continue. I'll go in to college soon.
Next weekend is shaping up to be a good one... but only precedes a monster...
5th November, Wales v New Zealand. Cardiff is going to be a good place to party.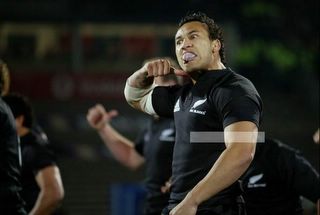 The Haka