Yes, I do talk to letti occasionally.
I know the plural of lettuce is lettuces. I just don't want it to be
Blatantly stolen from Marshall
Well, the weather surely is fine today! It's nice and warm, yet it pissed down this morning and there's a nice cool breeze blowing around. It's the kind of day that I like to spend on top of a mountain pretending to be an eagle... maybe not eh?
Wasn't it Bill Bailey that said that he likes to paint his feet like talons and pick up mice with them, pretending to be an eagle?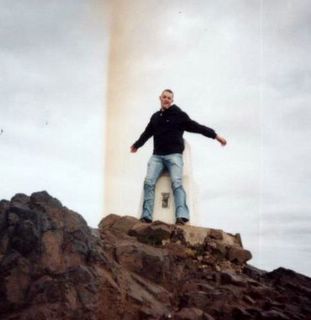 Me on top of a Scottish mountain a couple of years back, being all bird-like. Should have sent the film to 'Bonusprint' for 50p instead of taking it to a specialist shop and paying through the nose - I would have got better quality pics.
Things that have happened recently:-
Friday evening
, slept after work as
Old Rosie
had gone to my head. Andy rang, we walked all the way from Swansea to
Mumbles
(yes, it's a real name) to get some chips to eat by the sea, the chips were crap. We walked back again, full but unhappy.
Saturday
- Enrolled in Uni, I've managed to get the company to pay for me to get a degree in Civil Engineering. Tuesdays from October will now be spent studying rather than working in a crappy office - hooray! I celebrated by purchasing some socks - I've never done that before, quite a fun time really!
Sunday
- Wore my new socks, swore at my CD player for not working and almost bought a new one. I miss my CD collection - all the CDs are sitting in my room doing nothing, a huge emotional rollercoaster of tunes unable to affect my mood at all.
Which brings me onto my next point, I'm going mad a teeny weeny lot. I think it's the hours spent in the evenings kicking around the house. The bulk of my friends all live in Cardiff and it's really beginning to piss me off not being in their company. I'm noticing that while my live-in landlord, and the other two housemates are great people (well one isn't but that's a different matter), I have absolutely nothing in common with them. Going through the living room (where they constantly watch TV) is akin to bumping into an acquaintance on the way to the toilet in the pub, you don't really want to stop as you're desperate for a piss but you come out with all the pleasantries anyway. It's getting a little awkward. The culmination of no decent conversation, no CD's to play and having my friends over 40 miles away has led to me talking to myself quite frequently as a source of entertainment! As I was making some lovely salad sandwiches yesterday I had the following conversation with my landlord:-
Landlord: Chris, are you okay?
Chris: Er, yeah I'm fine - why?
L: It's just that you were talking to that lettuce
C: Oh shit, was I?
L: Yeah, going mad?
C: Must be, what was I saying?
L: I couldn't figure it out, you were mumbling
C: Maybe I was telling the lettuce how it was going to meet it's end, accompanied by some ham and mustard
L: ...Er...Right
C: Maybe I was singing?
L: You were definitely talking
C: Oh well. Nevermind. Just make sure you lock your doors at night when I'm around. (grins)
L: ....Okay... (pulls worried face)
And I carried on, then I did it again but I caught myself - I had just verbally abused a cupboard for no reason whatsoever. I'm worried. Friends would quite happily tell you that I've got a bit of a screw loose anyway but this scares me a little.
So to remedy my problems, Sunday night Andy came round again - we walked halfway to Mumbles again but this time we took a small detour to the pub and after much deliberation, we got very drunk. We had a great night, just chatted to various people all night. No dancing was done, Swansea isn't ready for me just yet. I used to come out drinking here when I was in school (aged 15) but I moved away when I was 19 - I've got to get used to it again.
Today I'm a little hungover - my housemates were woken at 3am when I blasted my current favourite track (check the sidebar) from the computer.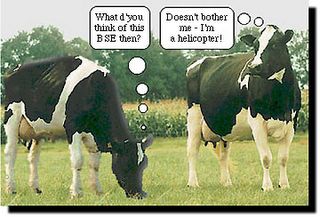 Mad I'm telling you.
Oh yeah, almost forgot. I had another 'I love being Welsh' moment the other day. I escaped the house and walked to the top of Kilvey Hill, which overlooks Swansea and the whole of Swansea Bay (gorgeous). The sun had just gone down and the light was fading - it was so nice sitting up there. Then all of a sudden, chants of "WALES, WALES" came drifting up from the stadium. Wales were playing football against Slovenia but it just brought back memories of winning the
Grand Slam
this year. I couldn't help but break out into a huge smile!!