Oh Dear.
I'd been really looking forward to another fun-filled weekend all of last week but after eating some dodgy potatoes on Friday evening, I have been very ill and have spent the entire weekend house-bound. Yuk.
Friday night I went out and about in Swansea, met loads of cool people and generally had a good time. I had prepared for the evening with some lovely bangers'n'mash (which I haven't had for years), the potatoes used didn't look 100% good but they certainly tasted okay! I woke up feeling not too good on Saturday and by the afternoon I was all sweaty and horrible so I took some paracetamol to try and make myself feel better. I don't usually take any medicines or tablets as I've always been of the opinion that a nice cup of tea can sort out all of your problems! A few hours after taking the Paracetamol I still felt very bad, I went to take some more but as I reached inside the packet, I noticed the expiry date - Februray, 2002!! Oh crap.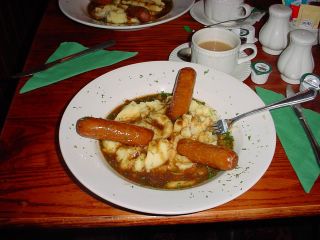 Bangers'N'Mash -Nice
So, Sunday and Monday I felt even worse, I'm a bit annoyed as I don't like taking days off from work for being sick - I get so BORED sitting around in the house. I tried writing a song about being ill on my guitar but I kept laughing too much which made me feel even worse..! I haven't taken a day off from work when I've actually been ill EVER in my 7 year working life (self-inflicted illness doesn't count) so I'm a little disappointed.
I'm still feeling pretty bad so any funny jokes/stories would be very much appreciated - not so funny that my head/stomach hurts though, just enough to make me snort like an old man!