Partied Out
What a weekend! Saturday night there was a fully sick party down near Whitesands in Pembrokeshire (One of the
top beaches
in the world, apparently).
The Warm up
I headed down to Haverforwest around midday, the weather was perfect as I got into Haverfordwest to pick up
Greggers
. We got the bus down further to St.Davids, Britains' smallest city, a little later on. Straight from stepping off the bus we ran into
Eirian
, Paul Martin and a few others and we all went to 'Y Cartref' for drinks.
Osian
and Madi were working there, we had gone to see them in
Bournemouth
a few weeks ago. Anyway, one drink turned into two, three, four etc. Each pint punctuated with a 'bluie' - the most popular drink amongst the alcoholic locals. We did a few more pubs, and then finally to the party at about 2am. We may have been to the rugby club too, can't quite remember.
The Party
It was the best set-up party I've ever been to! It was outside in someone's garden but there was large tent keeping everyone warm, the entrance was via a tunnel with cool lights in. The tunnel opened up into the main tent which had carpeted floor, lush lights, neon stuff and all that. The DJ was in full flow, keeping everyone going. It was mind-blowing. I wandered round chatting to everyone and eventually found my little sister sitting in the 'chill out' section with her boyfriend Jammy and loads of her mates. Jammy kindly supplied me with more beer as I'd blatantly run out, which was pretty nice of him. I spent the rest of the night (until 7:30am) just talking to anyone in sight, I met loads of great people. I also met 2 Swedes, 3 Latvians and a Pole - a very Northern European party it seems! It got a bit cold towards dawn but as soon as the sun came up, everything heated up almost instantly - amazing!

The aftermath
I crashed at my mate Tashas' house for a while to recover before I went back into St.Davids to find Greggers and Eirian. They'd both retired at about 4/5am apparently. Greggers and myself just went to the pub and felt sorry for ourselves. I had to get back to Swansea but I couldn't hack the train journey so I got off at Carmarthen (about halfway back) and hitched/walked back to my folks house 28 miles away. It was great walking back over the final 7 miles through forests and up over the mountains - Wales is just a stunning place, I can't say it enough!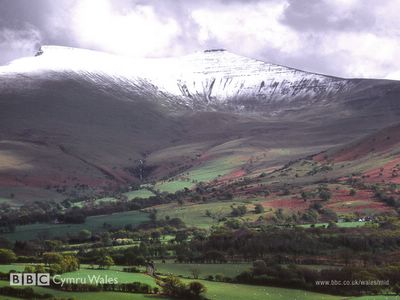 The Brecon Beacons, the view from my folks house, about 20 miles closer though....
My head had cleared sufficiently by the time I got to my folks house and there was the amazing smell of food being cooked as I walked through the final field - a great end to a manic weekend.
I fell asleep almost instantly when I finally got into bed, not had that for ages!