Temptation waits...
This whole not drinking thing is annoying me already, I've only gone 4 days so far! I remember the last time I tried stopping the wonder-stuff for a while, back in 2003 I think it was, I managed to last a whole 3 weeks!! I had to sit in the pub with the others listening to their really crap conversations that they all found hilarious. I started off pretty loudly as usual but by about 11pm I wasn't saying a word as I didn't have a clue what the conversation was about! As soon as I had finished the three weeks I was down the pub again necking pints almost as though my body needed to build up the alcohol levels to the same as before. I haven't stopped for more than a week since and it's about time I did. Not for health reasons you understand but only for money.
But, it's Friday night and I'm feeling a little lost. I've already been invited to a party in Cardiff, for a beer in the morning during the match and a piss-up in St.Davids. Also, an all day session in Pembrokeshire in a couple of weeks (because they need the advance warning for mental preparation!). I might head into town later to see what's gong on. I had planned to ignore all the folks in the town centre having so much fun and just lock myslef in my room to play on the x-box all night. But, I managed to break the controller after gripping it a little too tightly after losing a rugby match against Ulster whilst playing on it.
So, I'll just have to think of something else to do.. maybe build a cake or something?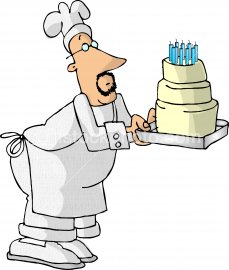 Me, later perhaps.
The weather's taken a turn for the worse - it's nice though as I managed to get my back sunburnt in 30mins (?) while I ate my lunch yesterday. It's still pretty warm but the clouds provide much-needed cover from the sun. Glastonbury has been hit pretty bad, loads of tents have been washed away apparently - very glad that I didn't try for hours to get an overpriced ticket.. not that I ever do. I much prefer Glasto from the confines of my own home, it's warmer but I guess I'd like to see a lot of the bands. The news on Radio One has the leading story as "A Beer tent was struck by lightning earlier today.." then they go on to say "..But no-one was hurt" Brilliant.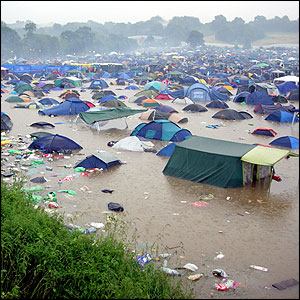 The flooding at Glasto
Some guy from Somerset dives in to "Find his car keys"
Last night I went to watch Glamorgan play Somerset in a 20/20 cup - I'm not into cricket that much but it's something to do eh? We all had a good laugh, some pissed blokes had got the whole crowd going by the end - they were hilarious. I guess that's what people do at the cricket? Just get hammered! Glamorgan won in the end but I don't think that anyone really cared!?
First Lions test tomorrow bright and early, it looks like the Lions are going to lose but I remain slightly hopeful. I'm not planning to get too excited, I'm just arming my mouth with a whole load of expletives aimed at a certain coach but I'm holding fire just incase his controversial selection works out. If it doesn't, bring in the cavalry.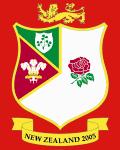 The comedy Lions badge doing the rounds
Now, onto those Cake ingredients...