And then the floodgates opened up.
It's been a bit of a blessing living out of Cardiff for the last 11 months - I've been a whole lot healthier (but put on weight from eating a little too well) and haven't been out so much. I still get mashed beyond belief but it's only been restricted to Friday and Saturday nights - Last Monday however was Greggers birthday so I HAD to drink for that one. But I slipped up again this weekend by going out on Fri, Sat AND Sun... it's a slippery slope..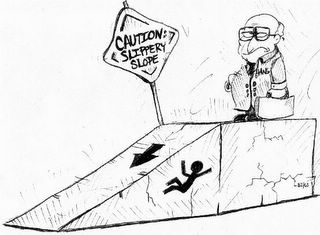 With only Alcohol and ruined dreams at the bottom of it!
I did have a great time though, Friday was our usual - the George and then onto the Students union. Met three lovely Irish girls after asking them to unclip a key from my keyring for me (useless bastard). Norma, Deidre (pronounced Dyeer-dra as far as I could make out) and Emily were all big drinkers and big Rugby fans too. Can't remember a lot about the conversation but it was jolly entertaining and included lots of rugby (as my team the Scarlets were playing their team Munster in the Celtic cup final on Sat -
review
). Got a bit lost in the Union and spent my time divided unequally amongst Greggers, the Irish girls, Scouse, Alice & Louise, and Eirian in a dress. That's a nasty habit of mine though, I can't keep still in a pub and have to chat to everyone I know!
Sat was a bit of a shitty one, got into the pub at about 1pm to watch Scarlets play Munster but discovered that it wasn't on until 5:30 ugh. Still, Scouse, Charlie and James appeared to go shopping for Grannies clothes which was pretty fun. It was James' birthday on Sunday and the theme was 'Grannies and Trannies' - we spent absolutely ages going along
Albany Road
and into all the charity shops. I found a great flowery dressing gown, a nice warm yellow Cardigan, some lush pink hair rollers (velcro, for short hair) and some shockingly good fitting white granny sandals (I only have tiny size 8 feet).
By this time, the boys had gone to Gassy Jaks (The pub with the national anthem scene in the film 'Human Traffic) and were watching the Zurich Premiership final where
Wasps thumped Leicester
. It was Leicester captain Martin Johnsons' final game so it was a bit of a shame to see him go out like that. He's been one of rugbys greatest ever players and has won every rugby title available to him for Club and country including the Zurich Premiership with Leicester several times, the Heineken cup - twice, the World cup with England and was captain of the winning Lions tour to South Africa in 1997.
After that game, I hot footed it back to the George to watch the Scarlets game but we lost that one 27-16. It was an okay game but Ronan O'Gara was on fine form after his leg injury laid him out for 6 weeks. I was hoping the Irish girls would make it down to watch the game but they were all a little fooked after the previous night. Eventually found ourselves in the Students union again, it was one of those nights where no-one said a word and we all just sat there until someone had the great idea of saying "Lets go home" and we did. Got back to discover that Bleddyn, Dave and Simon were all off to a house party, only they weren't quite sure where it was.. We found it eventually - it was an after party for the bands that had played at
Clwb Ior Bach
tonight. The house was full of absolutely hammered people so we didn't really help once we got there - Bledd and I only managed a beer before leaving at 5am. I was recognised again by an ex-HBOSer - got out quickly though.
Owain, I've discovered a St.Davids drink called the 'Bluie' (or something) - I'd never heard of it but it turns out that it's a weaker version of the O-bomb and is only served in half-pints!! I introduced the O-Bomb to St.Davids a couple of years ago and it turns out that it's spawned a new craze down there! For Those that have never heard of the O-Bomb - it's a nasty pint of 4 vodkas and 1 1/2 bottles of WKD blue, and you have to drink it within 10mins of its purchase. To say the least, it makes you go a bit funny - especially after a few drinks beforehand. Side effects have been known to include:-
Stroking the barmaid
Extreme wrestling
Stealing Christmas lights from the entire front of peoples houses
Dancing round the philharmonic with your pants round your ankles
Sunday was great fun - the weather was absolutely stunning and the George has a recently opened Beer Garden! We just chilled out all day in the beer garden, the boys were more interested in the Man U footy on TV but I was just loving the sun and the beer. Charlie finished behind the bar at 5pm so I went with him and a guy named Harry to the girls house to get changed into out Granny outfits. It was hilarious, the girls had great fun dressing us up and putting the makeup on - they weren't coming out until later but I'm eternally grateful to Scouse and Jen for lending us various items of underwear! Just as the 6 (Tom, James, Charlie, Harry, Emily) of us walked out of the house, a very large group of blokes walked past - cue the wolf whistles and "That One's yours Mike" etc.. - fucking hilarious. We got into the George to find Aled (6 foot something with stubble, with remarkably well done make-up) and Steve (who actually looked like his Mum) already there. The locals and the staff thought it was brilliant, we got laughed at constantly! We started on the pints but decided that they were rather un-ladylike so we moved onto the wine - before I knew it, It was 1am and we were in Steves house having a Party. Don't remember much but it was good fun all the same - loads of people for a grinning Chris to go and talk to.
Left about 1:30 as I had work in the morning, went back to Scouses to get changed (so nice to get the tights and bra off - they'd been itching all night) and at last I had my trusty jeans and t-shirt back on. Got home at about 3am (lost 1 1/2hrs somewhere) and was woken at 6:30 by Greggers who wanted to catch an early train back to Haverfordwest. I agreed to go along, and met him at the train station. He was initially too embarrassed to sit next to me as I still had makeup all over my face but he was just as hungover so he didn't really care in the end. I got off at Swansea and he continued on to Haverfordwest.
I made it into work on time, I even had time to get back home to shower and change! Monday was a bit of a write off though, didn't get much work done. I'm still knackered now on Thursday - I've got a nasty feeling that another big weekend is coming up too.